Webcast
Oppenheimer 29th Annual Healthcare Conference (Replay)
03/19/19 at 9:10 a.m. ET
UroGen Pharma is a clinical-stage biopharmaceutical company focused on developing novel therapies designed to change the standard of care for urological pathologies with a focus on uro-oncology. The Company has an innovative and broad pipeline of product candidates that it believes can overcome the deficiencies of current treatment options for a variety of urological conditions with a focus on uro-oncology. The lead product candidates, MitoGel and VesiGel, are proprietary formulations of the chemotherapy drug Mitomycin C, or MMC, a generic drug which is currently used off-label for urothelial cancer ...
More>>
URGN (Common Stock)
$38.02

0.09
 (0.00%)
03/19/19 4:00 p.m. ET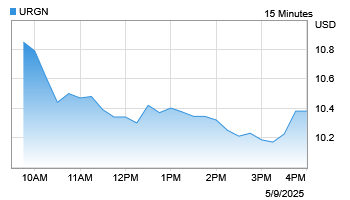 Data provided by Nasdaq. Minimum 15 minutes delayed.
There are currently no events scheduled.
Receive E-mail Alerts
Sign up to receive e-mail alerts whenever Urogen Pharma posts new information to the site. Just enter your e-mail address and click Submit.